Android Vs iOS 

    
When we think about buying a mobile , our first consideration is all about to buy whether an Android mobile or iPhone . So there is always a comparison between Android Vs iOS .
Here we will discuss about ios vs android comparison and thus android vs ios pros and cons which can help you to understand ios vs android which is better .
Android
As you all know Android is one of the best operating system from Google which is based on Linux Kernel . Now almost many devices run on this Android OS. Currently 99.6% of new smartphones runs on android and there are 2 billion Android users across the world .The main reason for this popularity is that it is very cheap compared to iOS devices and it is open source .
There are over 2.8 million apps  in play-store . Android application can be made with java , c and c++ languages . Android has been the best selling OS in tablets since 2013 . Android has given numerous updates to add new features and fix bugs .
Read Also : Google Pixel WiFi Calling Enable and Disable
Read Also : Android Oreo Features to fall in love with Android mobiles often
Android name its versions after the name of dessert in alphabetical order for eg. Cupcake to Android Oreo . Android OS is widely been used in many devices like smartphones , also popular in Android TV , Android Auto and Android wear thus we can see an increase in Android users day by day . One of the catchy things of Android is that one can customize anything according to his/her need , like one can change the OS of the device. These features make Android different and most popular mobile OS in the world.
Read Also : How to Use Google Assistant on Android Devices (Without Root)
Now we have discussed about Android before we talk about Android Vs iOS , we will take a rough look on iOS also .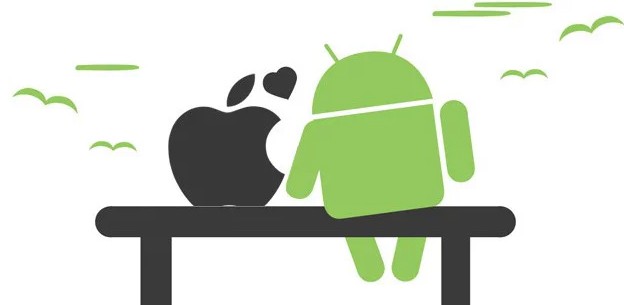 iOS
iOS ( iPhone OS) is a mobile operating system developed by Apple Inc. It has been unveiled in 2007 for iPhone and later it has been extended to support other devices such as the iPod touch released on September 2007 .
Apple has also been praised for its accessibility functions that enable a person with hearing and vision disability to use it's product properly. 'Be my eyes' ,'Dragon dictation' are some good examples of that. iOS is best in terms of data security . One have to use iTunes desktop app to share media, thus making media transferring very difficult. iOS releases its versions annually .Current version is iOS 10 and It is available on various devices of iPhone like iPhone 5 .
Read Also : Backup Android Device to PC or Google
Now on the iOS series latest is iOS 11 which is the latest iOS version .
Pros & Cons of Buying Android Vs iOS – Which is better Android Vs iOS
Here is the pros and cons to before you chose between Android Vs iOS when considering to buy your latest smartphone .
Pros of Android 
1. Open source and easily customized : It is based on Linux kernel . It is an open source you can get millions of free apps there . It is easy to customize. One can even have access to even boot loader. The more number of apps increase choice and this is one among the top catchy factors of android.
2. It offers expandable storage with several phones: Normally most of the android phone offers expandable storage so that we can store more and more which iOS don't offer .
3. Wider choices of phones are available in the market: There are a huge number of android phone companies are available in the market like SAMSUNG, HTC, MICROMAX and many more  which in-turn offer users more choices while iOS is only available on Apple devices.
Read Also : Google Traffic : How to check traffic to work or home
4. Large number of user leads to large number of developers for android: Large number of android user also leads to large number of developers because of increase of android phone demands and their apps.
5. Very cheap and easily available then iOS: Android phones are very cheap in comparison to iOS phones . One can easily get a good android phone under 10k .
Cons of Android 
1. Higher chances of malware:   Android phones allows installation of third party apps which can harm data and increase chances of malware .
2. Different interface for different phones:  A large number of interfaces is available for a variety of mobiles.
3. Patchy support :   Support and assistance services are not good as compared to iOS due to huge number of customers . It's patches are easily available.
Read Also : Fix "Voice search has been turned off" error for google now
4. Don't have any special features for disable persons yet :   Like any other iOS phones no android phones have features for disable persons yet .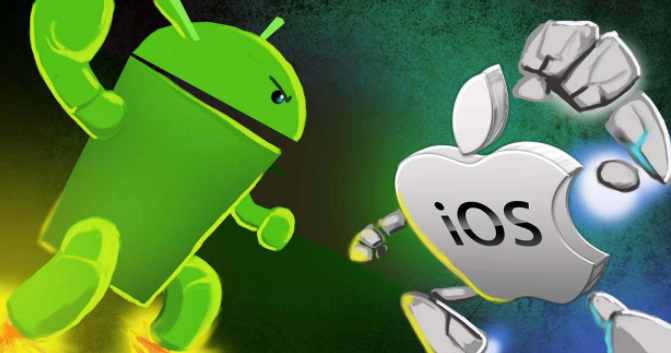 Pros of iOS
1. Apple itself optimize its both hardware and software: Apple itself optimize its every iPhone hardware and software . It blocks installation of third-party app stores. This leads to its better quality and performance.
2. Curated app store : Very well curated app store . You can get a lot different choices which you can't get anywhere else. The iOS phone needs to be jail-broken if we want to download apps from other stores.
3. Very few chances of malware : Apple optimization decreases the chances of malware.
4. It has a good user support : Apple provides its user a very good support . It provides icloud support to its user which can store upto 5GB files automatically.
Read Also : Android boot Fix – Steps to Try When Your Android Won't Boot
5. Features for disable persons in iOS makes it more popular: It has some features and apps that can help disable persons to use iPhone conveniently like 'be my eyes' and 'dragon dictation'.
Cons of iOS
1. We can't extend storage in an iOS phone : iOS phones doesn't support external storage means we cannot expand storage with the help of memory cards.
2. Walled garden ecosystem: It means that the iOS carrier or service provider has control over the applications and content .
3. Limited customisation : We can't change its OS or can't make more changes unlike android phones.
4. Most of the apps you have to buy from it's store as it is not open source like android : Very few apps are available for free most of them you have to buy from it's store and you can't share these apps .
So this will help you to choose between Android or iOS .