In simple words investment means 'saving' in present for 'profit' in the future. Almost everyone invests somewhere but not everyone gets profit. Before investing, one must have proper knowledge of all the options available in the market. Nowadays BITCOIN has become the most trending option for investment. BITCOIN is a digital currency which is becoming the popular choice of many people. This article is about Bitcoin Vs Other Investments .
You know that Bitcoin is the trending Investment today . And what exactly is this bitcoin can be said in a word called cryptocurrency . To understand that you must know the difference between cryptocurrency and fiat currency .
Cryptocurrency And Fiat Currency 
Cryptocurrency- It is a digital currency which is mainly used for online transactions. They are completely different from the standard currency as they are not controlled by any authority. Bitcoin is one of the most popular cryptocurrency some other digital currencies are LITECOIN , RIPPLE , DOGECOIN , AND ETHEREUM.
Fiat Currency –The government legally declared fiat money as a currency to be used by all the citizens for buy goods and services for example in India fiat currency is notes and coins so, every citizen of India has to accept it in exchange for goods and services no one can refuse to accept it. Fiat currency is completely controlled and centralized by the authorities. Its value depends on the relationship between supply and demand.
Read Also : Online trading beginner's guide to online investment
Comparison Between Cryptocurrency And Fiat Currency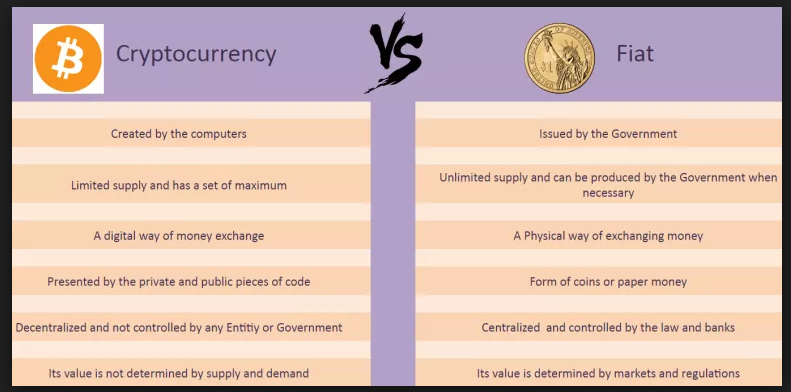 Cryptocurrency is not controlled by any authority so the users don't feel pressure. The decentralized factor of cryptocurrency makes the user financially powerful, whereas fiat currency is controlled by authorities so the pressure from authorities makes the user 'tied', as authorities have the right to do anything to the user's account.
Cryptocurrency is created by using computers, based on calculations that are extensively complex in nature, whereas fiat currency is produced by the government.
Cryptocurrency saves time, if a user makes the transaction through cryptocurrency it will only take few seconds whereas if the user makes a transaction through fiat currency, it usually takes 2-3 days as its process is too long so this makes a transaction through fiat currency as time-consuming.
Cryptocurrency is very different from standard currency as its supply is fixed its value depends on its demand, unlike fiat currency whose value depends on the market prices of goods and services, for example, if the price of good and services falls the value of money rise and vice-versa.
Cryptocurrency allows the user to send money directly to the person they want to whereas if a user wants to send money through fiat currency one has to depend on the middleman.
Cryptocurrency is deflationary as it doesn't get any impact by the market price of goods and services, whereas fiat currency is inflationary as it gets impact by the market price of goods and services.
Cryptocurrency is the digital currency, so they cannot be lost whereas fiat currencies are notes and coins can be lost.
 It is very easy to store and carry cryptocurrency, whereas it is very difficult to store and carry fiat currency.
Cryptocurrency cannot be damaged and destroyed, but if the system damage on which cryptocurrency is stored it can be backed up and save on another system, whereas fiat currency can be damaged or destroyed and can never be backed up.
 Cryptocurrency charges minimum 0.01% fees whether you send a small or big amount, whereas if you use fiat currency for sending money you have to pay the charge which depends on the amount you are sending.
Cryptocurrency is not going to devalue whereas fiat currency can be devalued by government.
Read Also : Venmo User Guide for Safe Transactions – Venmo payment
Read Also : Credit Card Debt Pay Off- 5 Things to Consider About Debt Pay Off
Bitcoin as the Trending Cryptocurrency 
Bitcoin is a form of digital or virtual currency invented on 3 January 2009 by unknown programmers under the name of Satoshi Nakamoto. It has become one of the most popular digital currency. Bitcoin uses peer to peer network where one can send money directly to other person and all the transaction that are made are recorded permanently with the help of blockchain. With the invention of the BITCOIN one more whereas tool was also invented that is blockchain. It plays an essential part in the transaction of digital currency, it works as a storehouse or record book that stores all records of transactions that happens globally.
How and Where to Use Bitcoins ?
One trending thing you must know is how to use bitcoins and where to use bitcoins , how to buy and sell bitcoins .
Bitcoin can be used for online shopping and other digital transactions. Bitcoins are popularly known for investments. If somebody wants to invest in BITCOINS, the first thing they have to understand is that they are buying the digital currency at the low price and selling them at the high price which will give them profit. E-wallets with unique keys are made to store bitcoins. When transactions are made money from one e-wallet transfers to another e-wallet in few seconds with the help of computers and bitcoin network.
Read Also : PayPal Vs Venmo : Best Online Money Transfer System Compared
Read Also : PayPal Vs Google Wallet : Best Online Money Transfer / Payment System Compared
Bitcoin Vs Other Investments 
There are many options available in the market for investment. Each option has its own terms and conditions,a different process of work and their own market risks. So will see Bitcoin Vs Other Investments (Gold / Bonds / Stock & Shares) .
Let see Bitcoin Vs Other Investments 
Now will see the comparison between different Investment with respect to Bitcoin .
Read Also : Short term Investment Plans – Pros & Cons
BITCOIN VS GOLD
Since ancient times, gold is usually the most popular choice of people for investing. Many people invest in gold as most of the time it gives profit to the investor.
Though gold is the first choice of investors , bitcoin is much better than gold . As bitcoin can easily carry no matter in how much quantity it is, on the other hand, to carry gold from one place to other place is difficult and not at all safe.
User can easily access their bitcoin wallet  from anywhere by using a computer, laptop or a smartphone  this is not possible with gold.
.Chances of forgery are possible in gold, whereas it cannot be possible with bitcoins.
The government can confiscate gold but can never confiscate bitcoins.
When you think about Bitcoin Vs Gold as Investment then its better to consider Bitcoin .
Read Also : Gold purity and hallmark -Buyer's Guide to choose the Pure Gold Jewellery
BITCOINS VS BONDS
A bond is where the investor lends some money to a corporation for a certain time period at a fixed interest rate. This option for investing is not safe as it depends upon a third party, whereas bitcoin is independent where a user doesn't depend on a third party. Bitcoin allows the user to be powerful on their own.
Bitcoin seems to give you better when you talk about Bitcoin Vs Bonds .
Read Also : Mutual Fund A Complete Guideline – All You should Know
BITCOIN VS SHARES AND STOCK
If one chooses shares and stock for investment it means they are buying shares of a company at a price that is fixed by a company. Buying more stocks means your power and ownership in company increases which will result in more profit.
The profit of the investor completely depends on the profit of the company and it also takes time to make the profit such as two or three years, whereas bitcoins make the profit instantly it will only take few weeks or months.
There is one more advantage of investing in bitcoin which is not available in other investments, that is if you invest in bitcoin you doesn't have to pay tax but if you invest somewhere else you have to pay tax.
Read Also : Investment on Stocks and Shares -Pros and Cons
Read Also : Forex trading beginner's Guide to Earn without Loss in Forex
If you think about Tax free investment with huge profit then Bitcoin is the option . Because bitcoin is tax free investment strategy while share and stock profits are subjected to tax deductions . So when taking Bitcoin Vs Stock/ Share , the former is the hero in investment.
CONCLUSION
BITCOIN is the best option for investing it is getting popular widely .
Many people started investing it. Since 2015, Bitcoin profit continues to rise. This currency is accepted widely without converting it to the standard currency. Users can access it from anywhere, they just need a computer with an internet connection and its security is not at all an issue, as blockchain records all the data of transactions that happen widely.But we have also given a comparison on Bitcoin Vs Other Investments (Gold / Bonds / Stock & Shares)  for your better investment decisions.