Here we will discuss all about mutual fund including basically what is a mutual fund and the different types of mutual funds. Also we will focus on how to analyse the performance of the mutual fund investment , mutual fund table . By knowing all this you will yourself have an idea about it but still we have given what you should know to choose the best mutual fund.
So now lets start with the basics of our topic.
What is a Mutual Fund?
Mutual fund is basically a type of investment fund which is formed by combining various stocks and shares. It is generally safer than shares and provides good returns as many of the funds have a locking period of three years. i.e Like a Fixed deposit. Mutual funds provide a higher interest than traditional fixed or recurring deposits.
In India, mutual Funds are becoming more popular as they are used for tax saving purposes in. They provide quick returns compared to the Life Insurance Policies which were used mainly for tax purposes before.
Read Also : Investment on Stocks and Shares -Pros and Cons
Different types of Mutual Fund
There are basically four types of mutual funds available in the market and they are given below.
Fixed Income funds
Money market funds
Hybrid funds
Equity funds
Fixed Income funds – These funds are also called bonds or bond funds. As the name indicates, the money is invested in such a way to provide the investor a fixed income. Mostly the money are invested in government based organizations as they are more stable.
Money market funds – In these funds, money is invested for a short period of time but can yield a decent amount of return compared to the traditional fixed deposits in banks. Your money is very secure in this type of fund and you don't have to worry about losing it.
Hybrid funds – As the name indicates, here the money is invested both in bond funds and equity funds. We can call this fund as "Funds of Funds" .
Equity Funds –See the below section , we have detailed it.
What is Equity Fund?
Equity Fund is the most popular type of mutual fund where the money is invested in stocks and hence it is also known as Stock Funds.  It can be open end or close end fund. Money is invested in the stocks of various types of companies.
Different types of Equity Funds
There are many types of equity funds available in the market and the most popular ones are below.
International / Global Equity Funds – As the name indicates, these funds invest in stocks of companies outside your country.
Sector Equity Funds – These funds invest in different sectors like telecommunication, banking, IT etc.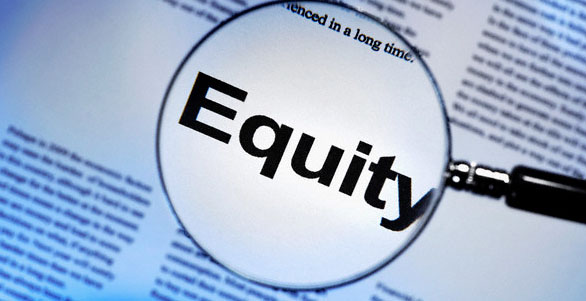 Index Equity Fund – This type of fund follows a predefined set of criteria and tracks specified investments. E.g. S&P 500 Index Fund.
Read Also : Short term Investment Plans – Pros & Cons
How to choose a mutual fund?
There are thousands of mutual fund schemes available in the market and you should be careful in choosing the right fund according to your needs.
Low Expense ratio
Find out the expense ratio of the mutual fund you are planning to buy.  Expense ratios include the administrative fee, annual fee, management fee and other expenses. It varies from 0.25% to 1% of the assets. It is advisable to choose a fund that has expense ratio less than 1% as it will perform well when compared with funds having higher expense ratio.
Low or No fees
Usually mutual funds will have two major fees namely front load fee and back load fee. Front load fee is the amount deducted when you buy the mutual fund whereas Back load fee is the amount deducted when you sell the fund. The value of this fee may vary from 3% to 8% of the total invested amount. To avoid this, you can buy mutual funds with no load fees called no-load funds as this will save some money.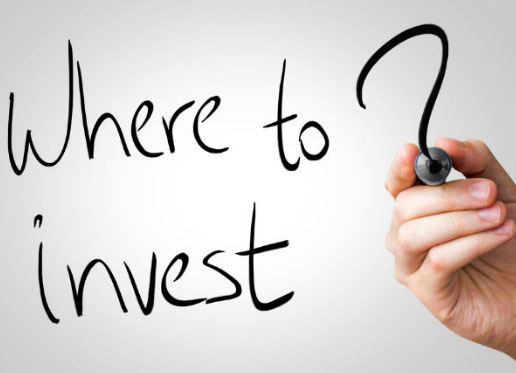 Analyze the past results
Before finalizing the mutual fund, make a complete analysis of the results of the fund over the past few years. In this way, you can find out whether the fund is performing constantly and making profit.
Know your objective
Why you are investing in mutual funds? Are you expecting a short term gain or you have a long term goal? Definitely you should have a concrete answer for this question for choosing the right fund. If you have a long term goal, you can invest in volatile funds with some risks but can yield a high profit in the long run. If you are expecting a quick return, then it is better to invest in stable funds like government companies.
Read Also : Gold purity and hallmark -Buyer's Guide to choose the Pure Gold Jewellery
What is a Mutual Fund Table?
You can find the mutual fund table in financial related websites or newspapers. Understanding the mutual fund table helps in knowing more about the performance of the mutual fund. A sample mutual fund table is given below.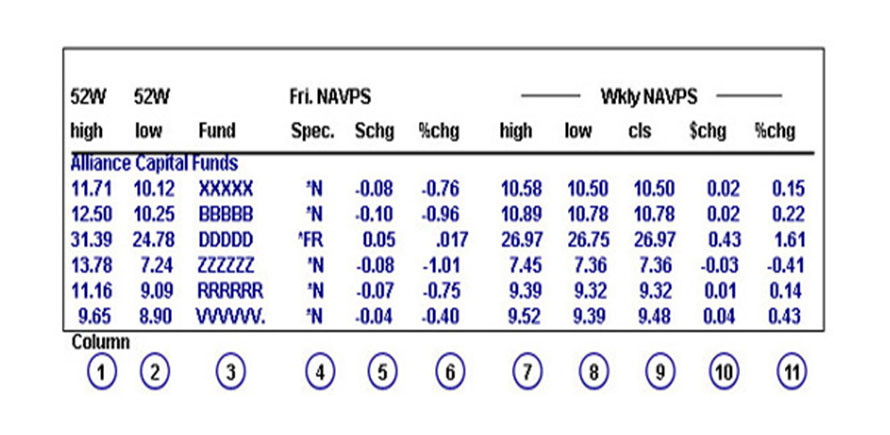 52W high & 52W low – This represents the highest and lowest value of the mutual fund over the past 52 weeks or one year.
Fund – Name of the mutual fund
Spec. – It explains the various characteristics of the mutual fund. For eg. N means No-load, FR means front end load.
$chg – Subtracts the current price with the price of the previous day. If it is -, then price has decreased, else it has increased. (Currency denoted in dollars).
%chg – Same as $chg. The difference is expressed in percentage.
high & low – These two fields represent the highest and the lowest prices of the mutual fund in the past week.
cls – Closing price. i.e final price of the fund at the end of the day.
$chg – Change in the price of the fund from the past week. (Currency denoted in dollars).
%chg – Change in the price of the fund from the past week.
How to know the performance of a mutual fund?
Find out the returns the mutual fund can offer in 1 year, 3 year and 5 year time period. It can give a good idea about how much returns we can expect. Also find out the record of the mutual fund for the past 5 to 10 years.
Try to understand the investment strategy of the particular fund. i.e where the fund is going to invest the money.
Find out the history of the mutual fund. i.e how long it is in the market. If it is old, then it should be a safer mutual fund as it has survived for long time.
Mutual funds is a very good option of investment with high returns compared to the conventional fixed deposits provided we choose the right type of funds.