Student loans are loans given to students in order to pay their post-secondary education costs which include fees, books, supplies and living expenses. A student loan has high rates in comparison to other loans and repayment terms are also different. Every country has its own laws to regulate student loans. This article is about the ways to Survive high interest student loans .
Survive high interest student loans – Amazing Tips
Before we go in detail to our topic Survive high interest student loans , lets see some related things.This article is written on the context of increment in student loan interest rate which is a crucial problem.
Types of Student Loans
For many students, it is impossible to study in colleges without borrowing because the expenses are very high. Hence almost every student depends on loans. Basically, there are two main types of student loans namely federal and private.
Federal student loans :
These are the loans provided by the government with very low-interest rates and repayment is easy. A Federal student loan doesn't need any credit check and also your financial history is not considered. Taking a federal student loan is ideal .One doesn't even need a cosigner to get a federal loan. A student has to submit FAFSA – Free Application for Federal Student Application to entitle a federal student loan. There are a lot of students who apply and hence the chances of everyone being issued a loan are not possible. It is given on a first come first serve basis of loan chances .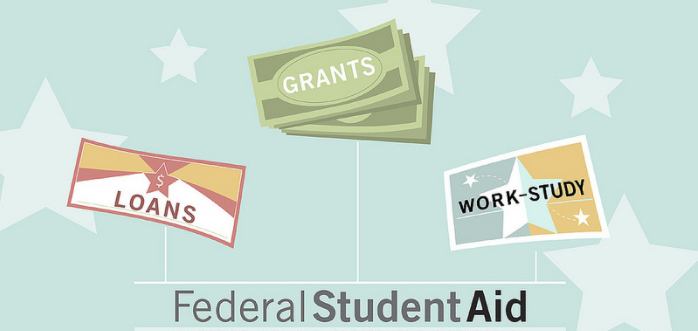 How to file or correct FAFSA 
You can apply for a student federal loan by submitting FAFSA. Here is the easiest way to submit/correct FAFSA , just follow this to get it done and in case of any doubt have a look at the video .
Go to https://fafsa.gov/
Start filling out the application form in case if you get any doubts you can use the online help in the official website.
While filling out you need to keep in handy certain documents – Social security number , Permanent resident card , any W-2 forms or fiancial records about you last year earnings,tax records .
You can fill out the information and get it done.
Types of Federal Student Loans
There are different types of federal student loans available . They are highlighted here as follows :-
Direct Subsidized loans
Direct Unsubsidized loans
Direct PLUS Loans
Federal Perkins loan
Here we are detailing these four different types of federal student loan.
Direct Subsidized loans are for undergraduate students these loans are interest free for a certain period of time.It is a best federal student loan to undergraduates.
Direct Unsubsidized loans are for undergraduate students , graduate , professional degree students also .Different interest rate is charged for Undergraduate and graduates in this scheme .You are entitled to pay interest through out .
Direct PLUS Loans are for the parents of the dependent students pursuing undergraduate , graduate and professional courses .Here the credit history of parents is taken into account for the loan.
Federal Perkins loan its available for undergraduate students , graduate , professional degree students but the loan is given based on your financial need and here the Education department is not the lender , your school is the lender .
Federal student loan is a better option to Survive high interest student loans.
These are the various federal student loans available .
Read More : Quickly increase credit score in just 12 months -Easiest hack
Private Student loans :
These are the loans provided by private finance agencies. In these the interest rates are high and financial history is considered. A strict validation of credit check is performed considering many criteria based on the lender. Also, a cosigner is needed to get a private student loan and if a student can get through all the documentation, it is easy to avail private student loan. Many students take these private student loans though their interest rates are high.Private loans are not really a ideal way to Survive high interest student loans. Still there are easiness in taking private loan and you can choose easy repay options in this case . These loans are more flexible and differs in nature and terms depending upon the banking institution you choose.
These are the main two types of student loans in US.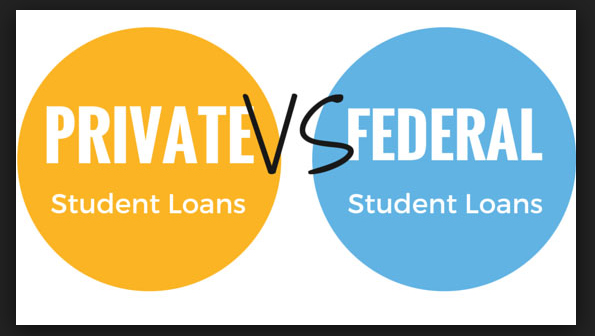 Know About it

Federal Student Loans

Private Student Loans

How to get the loan

You have to submit FAFSA
Apply directly to banks or other financial institutions

How about your credit history

Unless you consider a PLUS federal student loan your credit history doesn't matters here
Your credit history matters really well

Who or What determines your borrowing limit

FAFSA
Differs according to bank and the financial institution you approach.

Cosigner Helpful or No

Obviously cosigner has nothing to do here with your federal student loan.
If your credit history is bad then it will be a helping hand for you to have a cosigner.

Financial Need ( COA-EFC)

The actual difference between your COA –Cost of attendance and EFC-Expected family contribution)

Yes , your financial need matters here so you will be considered for a subsidized loan in cases .
It doesn't matter here about your difference between COA and EFC.

Is there any possibility to change your repayment plan

Once you take the loan you can change you repayment plan
You can't change it mostly but at some banks it can happen
Other Student loan or borrowing options 
Personal Loan – Students or their parents can take a personal loan to finance the educational expense.
Tuition Payment plan – Split the total semester bill into parts and directly debit from your bank account like the monthly bills.
Home Equity Loan – keep your house as collateral and get a loan but if your loan is not re-paid your house is in risk.
401(k) Retirement plan -Take fund from your retirement plan but its not a wise option according to many financial experts.
Home equity and 401(k) are not an option to Survive high interest student loans but just going to increase burden but still as a last resort of fund you can consider these options.
Read More : Best Low Cost Fund Transfer Methods An Overview
Why are the interest rates high?
There are a few reasons why your interest rates are high.
Maybe because you borrowed at the wrong time for instance when your cosigner's credit was low
Maybe because you had applied for too many loans and your credit check was hit.
Maybe because you borrowed a federal loan when the interest rates were high.
These are some of the main reasons for high interest on student loans . High interest rates lead to a huge financial impact on students with a typical 10-year repayment term. It feels like all the money they earn goes into repayment.
Ways to Survive high interest student loans
Financial fitness is a big agenda for all those students who are debt-ridden through student loans. The huge interest rates make them lay down resolutions and methods in order to pay off their debts. Students with high-interest loans are so preoccupied with finding out ways to repay rather than focus on their studies and careers. This is in a way good in making them better at finances though it has its own negative impact on student life and career. Here are a few amazing tips to survive high-interest student loans.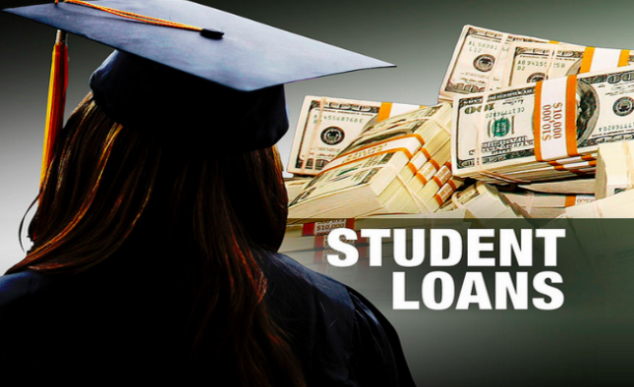 Organizing loans:
The most frustrating thing is not knowing how much you have to repay. The first thing to do is organizing the various loans you have and prioritizing over which to pay off when. It is usually recommended to consider federal loans first as their interest rates are low with better protection for borrowers. If you don't get a federal loan or if the loan amount you get is not sufficient, only then take private student loans.The most important thing to do to pay off your student loan is to organize your loans.
2. Exit Counseling:
This is very important and helpful if you are taking a federal loan. An exit counseling is a must for all those who take federal student loan since it has a complete detailing of the rights, protection and repayment methods. Pay full attention during exit counseling.
3. Co-signer:
When you decide to take a private loan choose a cosigner with a good credit score. This will reduce interest rates because lenders depend on the credit score and financial history of the co-signer. A good cosigner can save a lot of interests.
4. Comparison:
Before deciding on a lender, one has to compare between the various options available. For this, the best practice is to take a call or do a pre-qualification check in order to avoid hard inquiries. Too many hard inquiries will also reduce your credit score.
5. Check the auto debit options:
There are some lenders who waive off some percentage from interest rate during sign up. This will also enable you from missing payments. You should only ensure sufficient funds in your account every month in order to avoid overdraft penalty/fees. Check with the loan provider for available discounts.
Read More : Exclusive Nest Egg building guide for painless millionaire dreamer
6. Refinancing:
This is the major way to survive student loans with huge interest rates. This means a lender will buy your existing loan and lends you a new one. With this, your repayment term is reduced along with the interest rates. If you can qualify, you must consider refinancing without thinking much. You will need a good credit score, proper income source, and a low debt to income ratio to qualify for refinancing. Refinancing can save a lot of money. Many students who have opted for refinancing find it the best way to have a peaceful repayment of loans.
7. Loan interest deduction:
There is a tax break for student loan interests which means "student loan interest deduction". You can calculate your interest amount paid which can be deducted from the taxable amount for the particular financial year. The qualifying criteria of this include both federal and private loans; your dependency status (i.e whether you have dependents); your gross income; the interest you have already paid. One good way to Survive high interest student loans.
8. Voluntary work:
Do some voluntary work with organizations who pay directly to your lending company. There are organizations which need volunteers for their projects. When you work for such organizations and complete their campaigns, they transfer funds directly to the student loan company from where you have borrowed from.
9. Also, completing surveys, writing campaigns, posting on social media can all help you earn loan forgiveness. There are several companies which have policies for loan forgiveness. You may opt to teach, do some social work or work with the military services to qualify for loan forgiveness.
10. Try to repay when you are still in school:
This is the best way to survive a loan. If you can organize yourself to pay off the debts when you are in the school itself, you will be happy when you actually start earning. None of your hard earned money will go to paying interest which will be frustrating.
11. Switch to biweekly payments:
Instead of paying monthly, you can switch to paying bi-weekly. This will help you clear off early and will make you more responsible towards the loan. It will also reduce your other expenditures.
These are the best ways to Survive high interest student loans.
Conclusion
With the above tips a student loan holder should be able to overcome the various hassles of paying high interests in order to repay their loans. Education is a must for everyone and with it comes money. So students who are in the process of gaining knowledge will also learn to manage funds as long as they are studying with loans. Keeping this in mind be a better calculator and organizer of your own money while you also concentrate on a great career ahead.
Hope these tips will help many students who are now tensed about the rising interest rate on student loan . Just don't panic we may be coming up with more tips for you to Survive high interest student loans by watching the changing scenarios .