Money is all about its liquidity .Today fund transfer is not a distant term as it was before as there are numerous methods to transfer money. But what is the  Best Low Cost Fund Transfer Methods is still a confusing part for many of us.
The need to transfer money internationally or domestically may arise due to various reasons. You may require sending money home, or making payments, or purchasing foreign real estate. The list is not exhaustive. You look for various means to carry out a Best Low Cost Fund Transfer.With advancement in the field of banking and technology, you have a sea of options to choose from.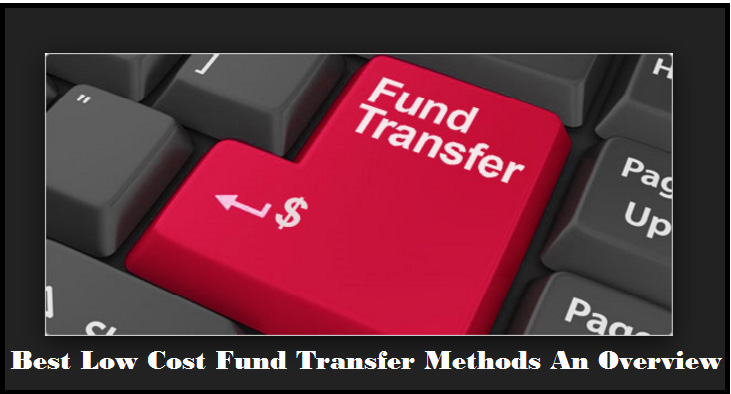 Based on your requirement you can narrow down the most appropriate Money Transfer service for yourself.However, there may be restrictions. PayPal which is a very established money transfer app may not be available in certain countries.  You may have to resort to sending money like they did before Smartphones. Yes, I am speaking of Western Union Money transfer.
Before effectively selecting your convenience of transferring money, keep in mind the following:
The cost for the entire process( transfer fees)
Exchange rates of currencies
Amount of money to be transferred.
Need for faster time of completion of payment
The cheapest way to send money online across the globe may also be the slowest in terms of execution.
Best Low Cost Fund Transfer Methods available.
Let us look at some of the best ways to send money internationally as well as domestically.
PayPal
 This is best when you are looking to transfer less than $10,000 within the US. Although it is quite similar to other online money transfer apps in terms of pricing, what makes it stand out is its worldwide user base. It has over 188 million active accounts. You can use the app or the website to transfer your money.

Maximum amount per transfer is $10,000. This does offer one of the cheapest ways to transfer your money, it allows the transfer through one PayPal account to the other. This transfer is free of charge. However the charge is when the person tries to cash the amount. In general it is a Best Low Cost Fund Transfer method.
For every $3000, a charge of 2.9% of amount along with .30% per transaction charge is remitted.
International transfer charges are higher.
TransferWise
TransferWise consistently provides one of the best exchange rates available in the market , along with competitive transfer charges, user friendly interactive interface and fast completion. Originating from the UK, you can access it via iOS, Android or online website. The highlight in their service lies in the best foreign exchange rates they provide which is mid market and lower as compared to the banks. Banks will often have hidden costs for international transfers which sky rockets the total charge of the transfer. At TransferWise, they claim it to be times cheaper in comparison.

For small transfers they levy a flat charge of $2.70. For higher sums, they will charge a cut of the transaction. Delivery within the US may take up to 7 days. You can track your transfer via their app or website.
Based on the TransferWise reviews by many users, we can give it a top ranking as a Best Low Cost Fund Transfer method .
WorldRemit
Using WorldRemit you can transfer money for cash pickup at cheap rates. It provides you with the added feature of loading airtime on the phone. The highlight is that the transfers are completed on the same day itself at some locations. They charge low transfer fee and all charges are upfront No hidden costs. It is a simple to use and trusted name serving over 125 countries. The transfer is secure and safe. WorldRemit guarantees safe transfer of your money.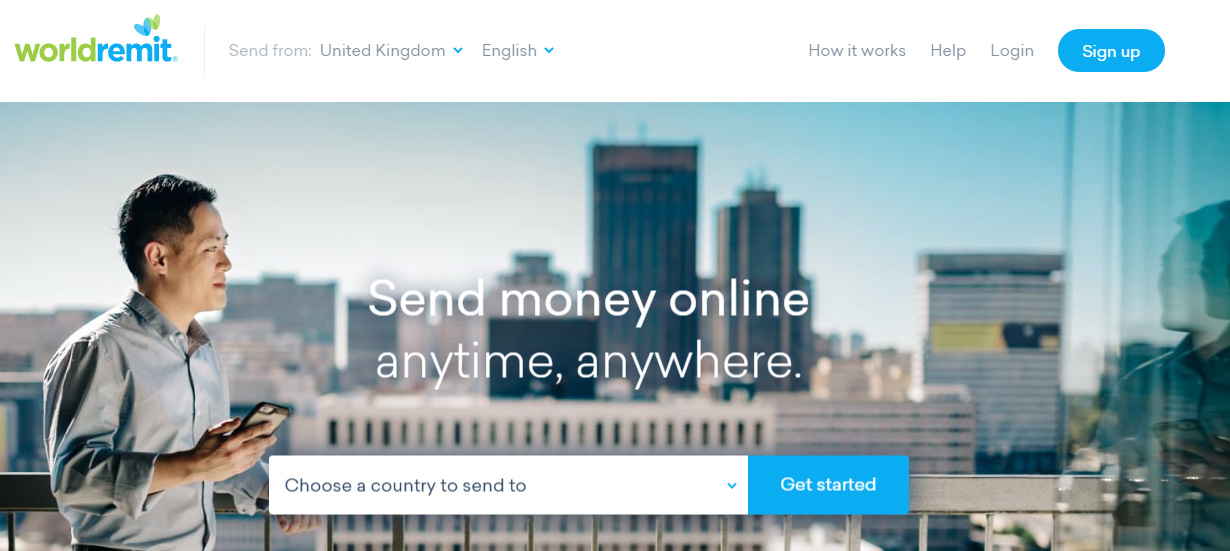 Bank Deposits take up to a maximum of 3 days. All you need to do is enter the location, the type of service (airtime or bank deposit), the recipient details and the transfer amount. It is definitely one of the cheapest ways to transfer money internationally.
Currency Fair
While looking for an online money transfer agent, you would always want to keep in mind a low fee and a great exchange rate for your currency. Here comes the Currency Fair. Once your identity is verified it is smooth sailing thereon. It provides an easy to use interface for operation. As per user reviews this is one of the simplest apps out there which provide you excellent rates to transfer your money internationally.That is it is the Cheapest way to transfer money internationally.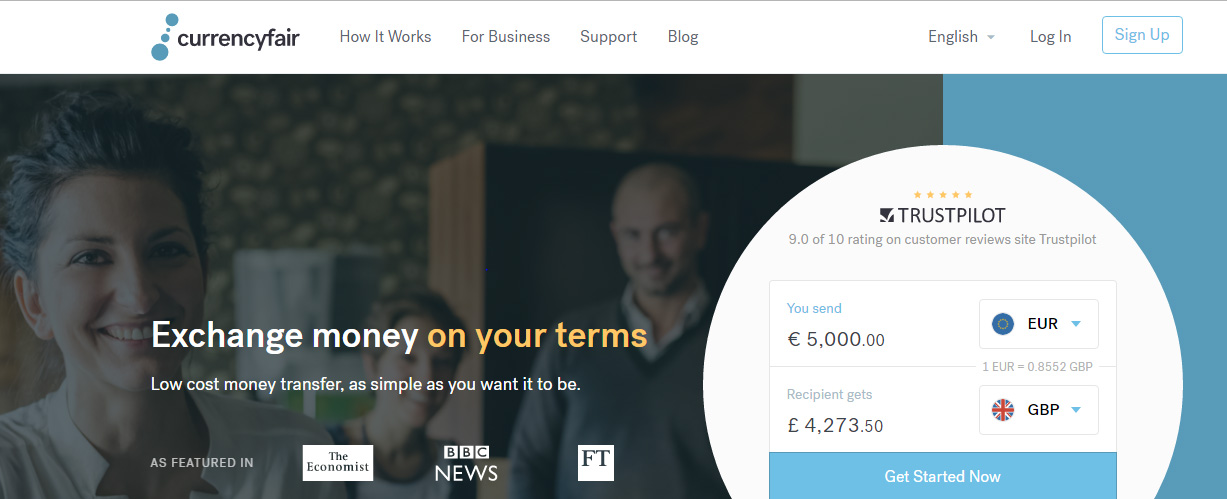 All you need to do is enter the amount you want to transfer. After charging their fee, they will give you the amount which the recipient will receive. It charges only 3 Euros for the transfer fee. An average of 24-48 hours is required for sending the money. You enjoy better rates than the banks or the FX brokers. Its availability is also a key factor. You can use it as a simple app or log on to their website online. With a Trust Pilot rating of 9.0 you can definitely bank upon Currency Fair. It is the cheapest way to send money online.
Currency UK
Currency UK is best used while transferring large sums of money to foreign accounts. They offer competitive exchange rates and charge a small fee covering the transaction cost. Customer service and support is good and friendly. You can use the app, either as an individual i.e. for private use or as a business organization.
If you are logged in as a private user, then you have a benefit wherein Currency UK will not charge any transaction fee for amounts greater than or equal to £5000. If the amount is below the defined limit then a £15 charge is levied.
Western Union
This is one of the oldest money transfer agents out there. Their service is worldwide spread across 4000 location. You may send the money directly to the person's bank account or the person may later collect the sum from a Western Union location.

The best time to use Western Union is when you need to get the money transferred across a city, or country in the case of an emergency. The downside to this is that you need to know a lot of information about the recipient. The charges levied are high and not as competitive as the rest. They have the fee estimate calculator which combines the location of the exchange, the exchange rate, the amount to be transferred. It can range from $10-$100. However, the fixed rate charges are also an attraction from a lot of users who want to transfer larger sums of money. This may not be suitable for a Best Low Cost Fund Transfer , but is an extremely dependable money transfer agent.
We suggest that you explore these options. Find the best suited for your need. You will see that the cheapest way to transfer money online in one circumstance may not be the same in another. In the end, it is your cash, keep it safe and save as much as possible.
So that's all about the Best Low Cost Fund Transfer methods . There are many other but we have listed the most widely used ones .