Parents are always in search of something new that can be prepared as baby food for their kids. The baby food should be tasty and at the same time it should be healthy as well. When we prepare foods for our kids we will be more careful as the food intake may affect the health more easily for small kids. Here are some Healthy Baby Food Recipes In Nutshell that you can try.
17 Healthy Baby Food Recipes In Nutshell – Age wise Baby food 
Baby food is something that needs lot attention as finding the ideal baby food and how to feed it is all very important .
What is a Baby Food ?
A baby food is something which is made for babies . It should be ideally soft and easily consumable by baby .Like elders food it varies in tastes but not so hard .While giving baby food you should be careful with your choosing . There are forbidden baby foods and foods that are hazardous like foods with bones or not well cooked food , seeds , certain nuts etc.So you should have a good knowledge about healthy baby food .
You can try out these Healthy Baby Food Recipes for 4 months to 2+ year old babies. 
The most ideal and healthy food for baby is breastfeeding . For good health and brain improvement of baby breastfeeding from birth to 2 yrs is regarded as good .But these days we can find that breast feeding is replaced with formula feeding .I personally would advice everyone to do at least the compulsory breastfeeding upto 4 months.
Here we are enlisting some of the preferred baby foods .
Pasta Soup:
Soups are always a good option for a healthy food. This is a soup that we can prepare with little pasta. You can change the taste of this food by adding mashed carrots, creamy spinach and so on.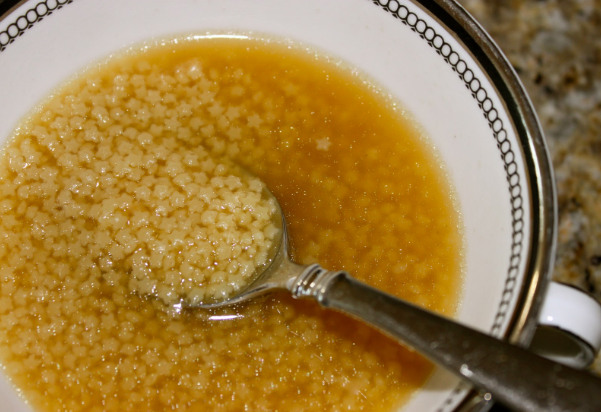 Ingredients needed:
355ml of chicken broths ( low sodium)
2 tablespoons of uncooked pasta
Read Also : Disinfect Baby Toys Naturally With these Top 3 Methods
How to prepare pasta soup for 8 month old baby ?
Gently boil the low sodium chicken broth.
When it gets boiled add the small uncooked pasta to it.
Cook for 8 minutes or 10 minutes .
Start stirring it slowly .
You are done with the homemade baby food pasta soup for your 8 month old baby.
Bring the chicken broth to a gentle boil and add 2 tablespoons of pasta. Stir it until the pasta is cooked and serve hot.
It is an ideal baby food recipes for 8 months old and above . It is advised to not to try it before 8 months as wheat allergy is common to babies . So pasta can be an allergic baby food before 8 months period.
Three cheese Sandwich :
Babies will love this triple cheese grilled sandwich.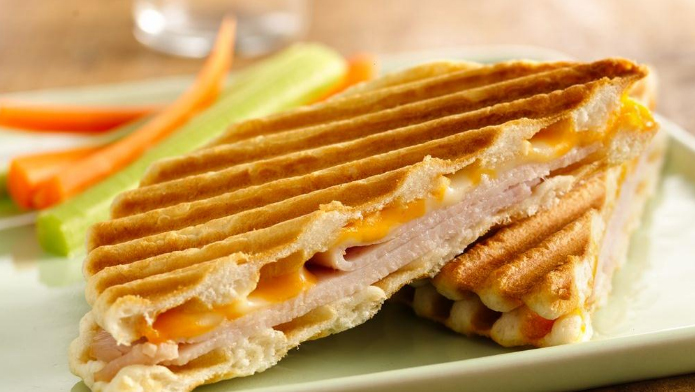 Ingredients needed:
2 French rolls
2 slices muenster cheese
1 slice yogurt cheese
1 teaspoon mustard
1 tablespoon feta cheese
Slice the French rolls vertically and spread mustard on it. Place the muenster cheese and yogurt cheese on the sandwiches and sprinkle the feta cheese on the top. Heat the rolls in the sandwich maker and serve after cutting it to pieces.
Read Also : Baby Straw drinking – How Teach Your Toddlers (baby) to Drink from a Straw
Orange and Carrot puree:
This is a dish with high vitamin C and A.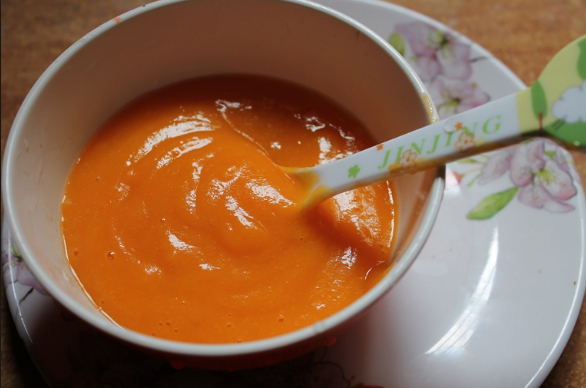 Ingredients needed:
Oranges
Carrots peeled and cut into small pieces (2 number)
Take water that covers the carrots, boil it up to 25mins. Drain and puree it completely without any telltale chunks in a food processor.Add orange juice and a pinch of cinnamon.Orange and carrot puree is ready which is an easy and Healthy Baby Food Recipes.
As orange is a citrus food it will give acidic problem in babies less than 1 year old. Rashes will happen in babies of less than 12 months , so it is advised to give this baby food for 1 year or above older babies.But when mixing it with other ingredients it lessens the effects . So carrot-orange puree is ideal baby food for 6 months old.
White puree:
This is a food that is high in fiber, protein and iron.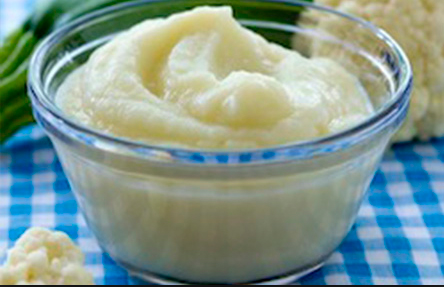 Ingredients needed:
Cannellini beans (rinsed and drained 15-oz)
1 tablespoon water
Put these beans in food processor and add water. Make it a puree with a consistency of peanut butter. If needed add 1 tablespoon of water at a time.
Purple puree:
High in vitamin A, C and E.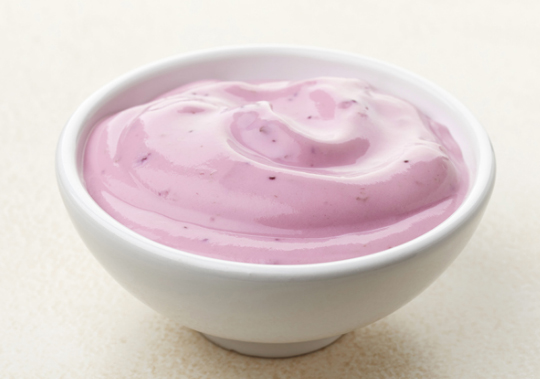 Ingredients needed:
Frozen spinach
Blueberries
Lemon juice
Water
Boil the spinach in water and keep it for 6 to 7mins and drain. Mix all the above ingredients and make a puree in food processor.
Read Also : Best play time idea for your one year old toddler
Banana Puree:
An easy recipe with banana for kids. Only one ingredient is banana.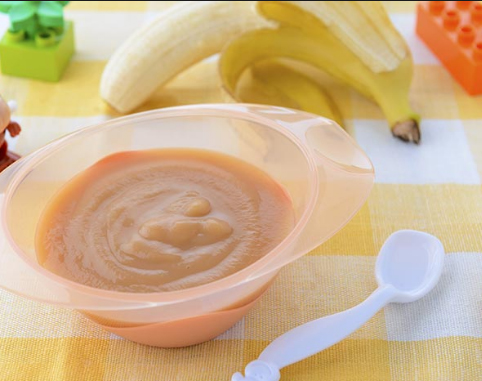 Mash the banana and add a little milk to it for making it thin and feed the kid.
Beets And Blueberry Mash:
Ingredients needed:
Organic beets
Blueberries
Peel the beets and chop it to cubes and place this along with the blueberries in a saucepan. add water that cover the tops of the beets and blueberries and cook for 15 mins. Then blend it using a blender until smooth.
Avocado And Banana Puree:
Ingredients needed:
Avocado
Bananas
Apple cider vinegar/lemon juice
      Cut the avocado and remove the pit and scoop out with a spoon. Take the banana after peeling it. Add these two to a blender and blend it until smooth.
Papaya puree:
One of the simple and healthy baby food you can prepare in just 2 mins.
Ingredients needed:
Cut the papayas in to a bowl and put some sugar to it if needed. Blend this until smooth using a blender.
Read Also : Toddler Separation Anxiety Overview – Preschool Age
Banana Powder and Honey:
Banana is high in calories. One of the best ingredients that we can use in healthy baby foods is banana.
Ingredients needed:
Peel of the raw bananas required and slice it to thin pieces. Make it dry in sun light until it gets dry and powder it. Then take 3 tablespoons of this powder and add water to it. Stir it until it boils and cooks well. Add honey for taste.
Apple puree:
One of the best and Healthy Baby Food Recipes you can prepare in just 2 mins.
Ingredients needed:
Cut the Apples in to a bowl after peeling it and add water to it and let it boil and put some sugar to it if needed. Blend this until smooth using a blender.
Brown rice cereal:
Brown rice is a healthy choice for preparing baby foods. We can add something additionally for taste to it.
Boil water in a pan and add 2 tablespoons of Brown rice powder to it. Let it cook well & Stir it continuously for 30 seconds and cook for 10 mins.
Read Also : Hidden Poisonous Food In Our Kitchen
Apple and Oats Porridge:
As we all know oats is so healthy and is rich in fiber. A blend of oats with apple will be delicious.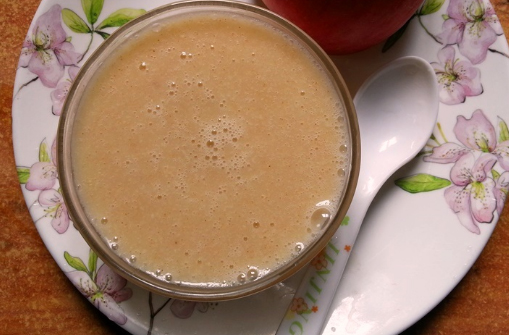 Ingredients needed
Apple
Milk
Oats
Ghee (or oil)
Take apple and peel, cut it to small pieces and then boil it in water. Mash it once its cooked well. Then take a cup of oats and grind it. Put a spoon full of ghee to a pan and add these mashed apple and oats powder to it. Add a cup of milk to it and let it cook well.
Finger Millet(Ragi) Flour Mix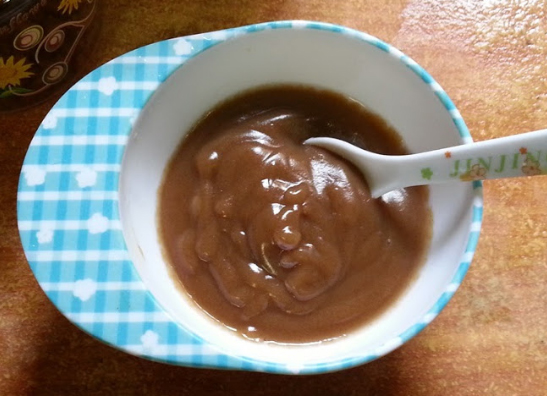 Like oats Ragi is also very healthy that we should include this in preparation of baby foods.It is one of the Healthy Baby Food Recipes that exist from ages.
Ingredients needed:          
Ragi powdered
Sugar or honey
Milk
Take a cup of ragi powder and make it boil in a cup of milk. Let it cook for 10-15 mins and then add sugar to taste.
Almond and cashew Milk:
As we all know almonds and cashew nuts are good for health. We can prepare a drink for babies with these two.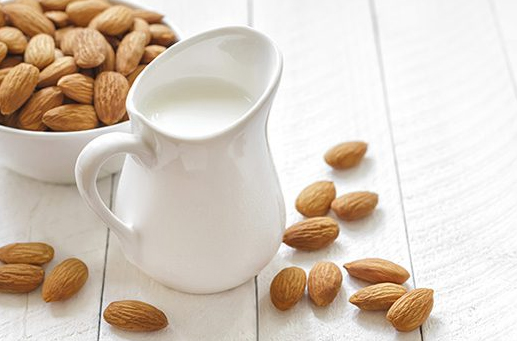 Ingredients needed:
Almonds
Cashew
Sugar
Milk
Choco powder
Take a cup of milk and boil it. Add the cashew and almond powder to it and stir well. Once its done add sugar to taste and sprinkle some Choco powder on the top.It is a tasty and Healthy Baby Food Recipes.
Fruit mash:
Fruits are very hard to eat ad babies may not like as fresh fruits. A better way to make them eat fruits is make a mash of it.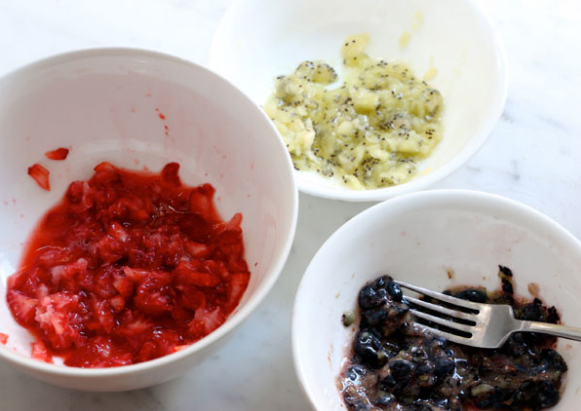 Take variety of fruits like apple, pineapple, papaya, grapes and so on. Mash each one using a fork or using a blender. Then add some sugar to it and feed babies.
Vegetable Puree Mix:
We must include vegetables in baby meals as there are so many nutritional values.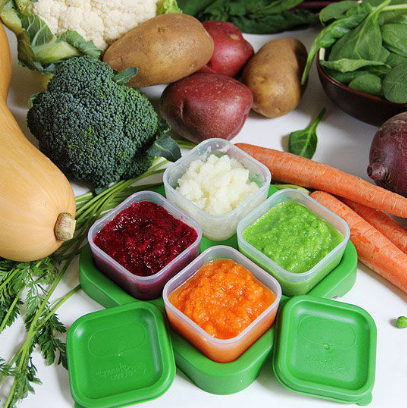 Take variety of vegetables and peel the skin out. Then cut the vegetables into small pieces. Make sure you are not using yam, bitter guard and snake guard into this. Blend all these vegetables using a blender and then boil it and cook well in water.
These are some of the nutritional baby foods that can be naturally prepared in our home.