Fast Forward , Rewind , Scrub Music in iPhone & iPad Music Player
If you have an iPhone and have listen to music in iPod before you would know that any song playing from the iOS Music app various operations like Fast Forward , Rewind , Scrub Music can be performed easily. In the case where you want to play a song in rewind or fast forward a song you can do either of them right from the lock screen of your iPhone or iPad Music Player or iPod touch as well.
These are really useful feature but I do not know why some lovely people find it so hard to find the location of the feature that they think there is practically no way to do it but you can do it though and here are my simplified steps to do them for various different versions of iOS.
Read Also : Factory reset iPhone without password or iTunes with data backup
Read Also : Connect Google Pixel to TV Easily with these Exclusive Guide
Fast Forward , Rewind , Scrub Music in iOS 7 & Higher
 You have to start the music or simply play the track you wish to listen and then might wish to fast forward to your favorite part and rewind it again to listen it.
 You then have to swipe the Control Center above by simply swiping from the bottom of the screen and then upward.
You then have to swipe either left or right unless and until the track which you are currently playing is displayed on your screen.
Now finally you have to drag the ball on the music timeline bar to your desired spot. Another way is that you have to first tap and then hold the fast forward or rewind buttons as well to skip ahead or backtrack respectively as per your wish.
Do speed scrub so that you can Fast Forward , Rewind , Scrub Music in iPhone & iPad precisely .
This is the way to Control iPhone Music through Control Center.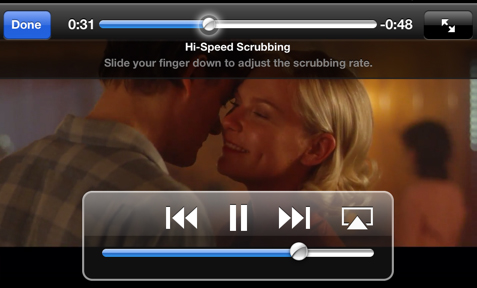 Read Also : Best iTunes Cleanup Software for better iTunes experience
Fast Forward , Rewind , Scrub Music in iOS 6 & Lower
You have to hold your device in a proper portrait orientation .
Now when your song is playing in the iPod you will notice that the album art will appear somewhere on your screen and if you find that there is no album art then a music note appears instead of album art. Then you have to tap either the album or the art/note whatever you are playing.
After completing above two steps successfully you will see a small bunch of features about which you might not be aware of. If you look closely you will find a line of them that indicates where on the music length of track your song is being played. Now as per your requirements you can now drag the ball back or forth to fast forward or rewind whenever you would want.
You can use these ways to Fast Forward , Rewind , Scrub Music in iPhone , iPad Music Player of all iOS versions .
Read Also : 38 Best iPhone games you should play
In the end I will conclude that by using my simple methods you can simply fast forward or rewind any song on an iPad or an iPhone whenever and wherever you want with the exact speed you want and as per your mood you select the speed. So use these techniques yourself and share them with other people so this information can be useful to mas many people as possible.