When speaking about menstrual hygiene products the most familiar thing is sanitary napkin(Pads) but today we will introduce you to a Pad alternative which is the Menstrual Cups.
Those days of the month when a woman bleeds are the most uncomfortable moments. Every woman, for the only reason of being an XX gene, has to undergo this discomfort.Menstrual waste or the blood that comes out of women generally once in 28 days is just another form of human waste. It happens naturally like urine and excreta but certain traditions have given extra attention to it considering blood. All these are myths and we as women should take strong charge of revaluing menstruation. Menstrual waste is also the waste generated through pads and tampons which pile up to 120 kg a month in a small city alone with a minimum population which is, of course, affecting the environment. Not just the environment and pollution, pads and tampons are the sources of infections which are turning out fatal to many women if left untreated. Just imagine what can happen when the most sensitive part of the human body comes in contact with a material that is most prone to bacteria? How healthy can a such a place be? The answer is the risk of fermenting bacteria and repeated health issues.
A pad or a sanitary napkin is the only companion which is known to reduce the discomfort. But, the pad effect is so huge on the long run that it affects the health of a woman. Various kinds of infections which she would not be able to share with even near and dear ones keep repeating. This is the secret infection which almost every woman faces. Menstruation is a process of the body and is not a taboo.
This article is about the various effects of the pad and how it can be overcome with a wonderful product called Menstrual cups.
Read Also : Breast Sagging – Things that every women must know
The Pad Effect
Super absorbency causes Cervical Cancer:
Watch out those pads which claim to be super absorbent. The cellulose in them is a known cause of cervical cancer. This is the second leading cause of cancer-related deaths in women.
Chemicals lead to infections:
As you can see in many sanitary napkin commercial videos, the pad has something called the gel. This gel is made up of chemicals usually dioxin which can cause abnormal tissue growth in the vagina as well as the uterus. It is a known source of infection as well. Rayon is used to making the pads and tampons increase their absorbing capacity but they are a place for infectious bacteria.
Pleasant odor to infertility:
The deodorant used in the sanitary napkin to avoid the bad smell of the blood is a reason for infertility. Young girls who prefer scented pads experience infertility in future.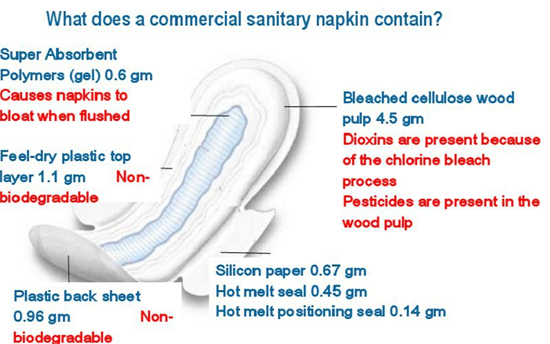 Soft cotton rearing causes cancer:
The pesticides sprayed to the rear that soft cotton which is used to make pads can cause cancer. The pesticides are poisonous in any form. The cotton is fresh from the plant and hardly undergoes any cleaning procedure before it goes into the commercial pad.
Dryness through synthetic material harvests bacteria:
The pads which let you stay dry for hours are made of synthetic material. Yes, they block wetness and temperature but are a very nice place for breeding bacteria which are harmful to feminine health.
Toxic Shock Syndrome:
If you do not change your pad for more than 4 hours, then there is an overgrowth of Staphylococcus aureus bacteria which leads to toxic shock syndrome. In extreme cases, this condition may lead to death.
Litter:
On an average, a woman disposes off 17000 pads in her lifetime and these pads are not biodegradable. They cannot be recycled and hence cause a lot of pollution to the environment. Tons of waste is created every month which is of great concern to the human fraternity. One pad is equal to 4 large plastic bags and we can imagine the size of landfill made by every woman every month!!
If you want to know about pad vs tampons vs Menstrual cups

Read Also : Astonishing Laser Skin Resurfacing Alternatives For Perfect Skin
Menstrual Cups
An initiative for better women health is to rule out menstruation as a taboo and give a solution to pads and tampons. Ruling out the taboo is in our own thinking and what we teach to our daughters. Revolutionizing a solution which is better than pads and tampons, in fact, the best solution is cup – voting. Meaning, switching yourself from pads and tampons to menstrual cups.
Menstrual cups, as many of you know is made up of silicone which is friendly to the human body and is reusable. It is made of the material used in feeding bottle nipples and so you know how safe they are. They are as safe as they are for infants as long as they are used in a sterilized form.  Here are a few menstrual cups available in the market:
Rustic Art Cup
Silky Cup
Diva Cup
She Cup
Me Luna Cup
Moon Cup
Ruby Cup
If you want to know how to insert/use/remove a menstrual cup . This will help you to switch to mestrual cups from old tampons and pads that should be avoided.

There are a lot of brands available in the market when you decide to Cup-Vert. Cupverting is an initiative that every woman should take in order to save herself from the secret infection as well as save the environment from the harmful effects of not biodegradable products such as pads and tampons.