Hard and Soft Reset Roku Manual
Over years, we have been listening to music on devices like tape-recorders; have been watching movies on cassettes, which then evolved to what we called the 'Walkman', which was portable. As years passed by and we entered the millennium-2000's, we were fascinated to have the Media players- MP3 players. There has been a high competition among makers of these portable players- Philips with Audio-Video media players, Apple with their iPods, also   other companies like Touchmate. In recent times, certain companies have introduced set-top boxes where they can use USB drives to play movies. Another transformation in these digital media devices, wherein Streaming sticks came into existence.This article will mainly explain on Hard and Soft Reset Roku .
What is Roku?
Roku is a streaming media player, wherein the content is taken from the Internet and is displayed on the TV.      Roku has different models, with unique performance and features. All the models of Roku have access to more     than 3500 channels. We shall now see some general features of Roku models:
Full 1080p HD support
Shortcut buttons on the remote for popular channels, e.g. Netflix, Hulu, HBO GO, etc (buttons change by         the model)
Search across multiple content providers
Mobile app available for casting personal media to your TV and providing remote capabilities
Ability to use the app in locations wherein Wi-Fi has to be logged in places like hotels and dorm rooms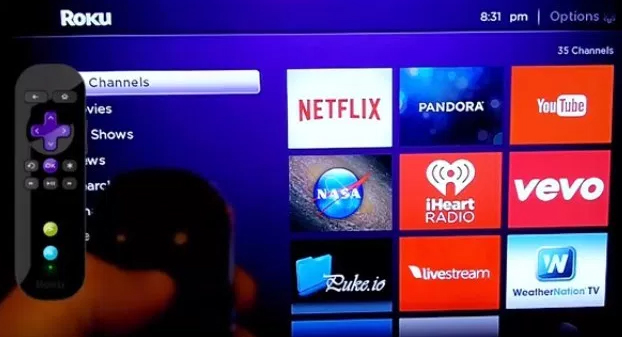 Roku Models:
In this section we shall have a look at the different models of Roku. These models have the features of less    expensive ones, unless it has certain unique additional features. Roku has a PDF Comparison chart, giving a      quick review of differences among these models.
Roku Express/Roku Express+- Price $29.99/$39.99: 
These are the base models and hence do not have the advanced features like others. However, Express+ has an added advantage of being played even on non-HD TVs. It also has an advantage over other streaming player rivals- Fire TV, Apple TV, Chromecast. 
Roku Premiere: 
The price of the Roku Premiere model ranges from $79.99. Its features are better than Express+ in different ways. For instance, it works on Quad Core processor dual band wireless connectivity of 802.11 ac.  It has an effective support for 4k videos. There is a Micro SD card slot for additional memory storage for additional apps and games if the box runs out of space. It supports screen mirroring from compatible PCs and mobile devices. A unique feature that makes the Premiere model to stand out is that it has a Night listening mode, which enables in enjoying even at night without disturbing others.
Roku Premiere+-Price $99.99:
 Here are the advantages of this model over Premiere, Express+,Express  and other streaming sticks. It supports HDR video. It has an Ethernet port. It has a more complex remote control (but not so advanced as the Ultra model):
It includes a headphone jack, so the streamed content can be enjoyed without disturbing others
The remote need not be directly pointed to the Roku player as the Streaming stick censors the signal. 
Roku Ultra- Price $129.99: 
This is the most advanced model of Roku, supporting both 4K and HDR        videos.  The only lagging feature of this model is that the features are available only to those having 4K            or HDR TVs, and the streamed contents are available only in 4K/HDRs.
There are a few added advantages of the Ultra model-
It comprises an Optical Out audio port to connect to home theater systems.
Presently the only model with a USB port to attach to a device to play your personal media files.
It has an improved version of remote providing voice search and has gaming buttons.
What is Roku Used for?
Streaming Videos:  What makes Roku different from other media players is its incomparable number          of channels offered. By 'Channels', in Roku is defined as what is called Apps. There are over 2500 channels     in the public database, with a few top ones for movies and TV programming- Netflix, Amazon Video, Hulu, Google Play, HBO GO/NOW, PBS, Lifetime, YouTube, WatchESPN, WWE Network, etc. They also offer a     few popular channels for children; news, educational,fitness,food and a few other categories of videos; other   set of providers like ACORN TV(British series), Crunchyroll(anime) and so on. 
Listening to streaming audio: Roku also has a good set of music services too, such as Amazon Music, Pandora, Spotify, iHeart Radio, and Sirius XM.
Play Games: Roku has a great collection of free as well as paid games, in which the popular ones are      Angry Birds, Sudoku, Toons and so on. If one wishes to play on Roku. there need to be an extra storage   capacity included in model 2,3 and 4 models having a Micro SD card slot.
Read Also : Kindle Fire Silk Browser Alternatives
When should you reset Roku?
Before taking you to the methods of Hard and Soft Reset Roku we will
Roku is quite compact, replacing the usual cable TV and can be placed in the palm of your hand. It can be really         a useful device if one wishes to enjoy playing movies with the TV connected to internet. It   streams the video      through sites like Youtube, Netflix and a few others. However, like every device, Roku too has some limitations.       It does get stuck sometimes. When such situation occurs, like when Roku hangs, we need to reset streaming  stick, and the best option is to Soft Reset. If Soft Reset does not solve the issue, Hard Reset is done on this streaming stick.
So now we will detail you the guidelines to Hard and Soft Reset Roku.
Methods to Hard and Soft Reset Roku or Streaming Stick:
Here are the exclusive methods to Hard and Soft Reset Roku by step by step guidelines.
Hard and Soft Reset:
Resetting this streaming stick to factory settings is quite easy. However, the lagging point is that one needs to           log in to all the accounts once again, its guiding manual is so informative like no other product could have, when      in difficulty. There are 2 basic methods to reset Roku Box or streaming stick-Hard and Soft Reset Roku
Soft Reset Roku: 
Assuming the navigation through Roku's menu, reset the factory settings:
Navigate to Settings menu
Choose Advanced System Settings                                                                                                                             
3. Click Factory Reset                                                                                                                                                                         4. Enter the code                                                                                                                                                                                          
Roku provides a code, asking for a combination of button presses. By following the instructions, Roku gets             into the Factory settings in a short while.
Read Also : uBlock Origin Replaces Adblock plus(Best Adblock Plus Alternative)
 Hard Reset Roku : 
If all the steps in Soft Reset fail, the ultimate option is the Hard Reset. This is not the most ideal way;                 however if the device constantly has a hanging issue or some problem prevents from using the reset software,       then Hard Reset is the ideal choice.
Locate the Reset button on Roku: This button would differ depending on the model of the streaming stick.         Earlier, these Roku boxes required a paper clip or a pin to reset as that in a digital watch. Newer models include the real reset buttons as in the Roku 4  and  Roku Streaming stick. 
Hold down the Reset button until the device really resets: Do NOT hold the button till the screen goes dark;    it restarts the device. Instead, hold the button for a few extra seconds until the Roku logo appears on the TV screen. From that point, the setup process can be resumed. If the process is successful, the device is ready to   be played on.
Why Do We Reset Streaming Stick:
Roku has become quite popular among youngsters who are movie buffs. It has won everyone's hearts by its ease       of use, its looks- how compact and portable. However, This streaming stick gives trouble at times when it hangs or freezes. At this point, the device needs to be reset. We have already seen the ways to reset streaming stick–    Hard and Soft Reset. 
 

Soft

Reset:
 It is used to restart Roku without losing the data or settings.
On Remote: When Roku hangs, it can be reset using the Remote by pressing these buttons:

Press Home 5 times
Press Up 1 time
Rewind << 2 times
 Fast Forward >> 2 times
These steps word in all Roku models.
On Menus(New models- 4, Premiere & Ultra): 

From the Home screen, select "Settings"->"System"->"Power"->"System Restart"

On Buttons(Older types):

Reset button can be seen behind or at the bottom of the device. Certain models require a pin or a     paper clip to press this button
To reset streaming stick, press the Reset button and release it after a second.

Power Pull: If none of the above procedures work, Disconnect the power cord for 20 seconds and                   re-plug it.
Read Also : Cancel / Reverse Venmo payment : When a Venmo payment goes wrong
 Hard Reset:
It clears all the settings and reset streaming stick to factory settings by default.
Using Buttons- Older models: 

Remove all cables except Power cord
Press and hold "Reset" button for 20 seconds
Continue holding "Reset" button unplug the power cord from behind the unit
Release the "Reset" button and re-plug the cords back to the device
Roku box is reset to factory settings, thereby taking through the Setup process again.
Guess now you are clear with the ways to Hard and Soft Reset Roku.
Roku would be chosen as one of the top-rated streaming stick or media player for the next few years until something better comes! Let the youngsters in the upcoming generations get to enjoy every bit of Roku for    watching  movies and playing games in HD version. Let us hope that Roku would have lesser chances of freezing.